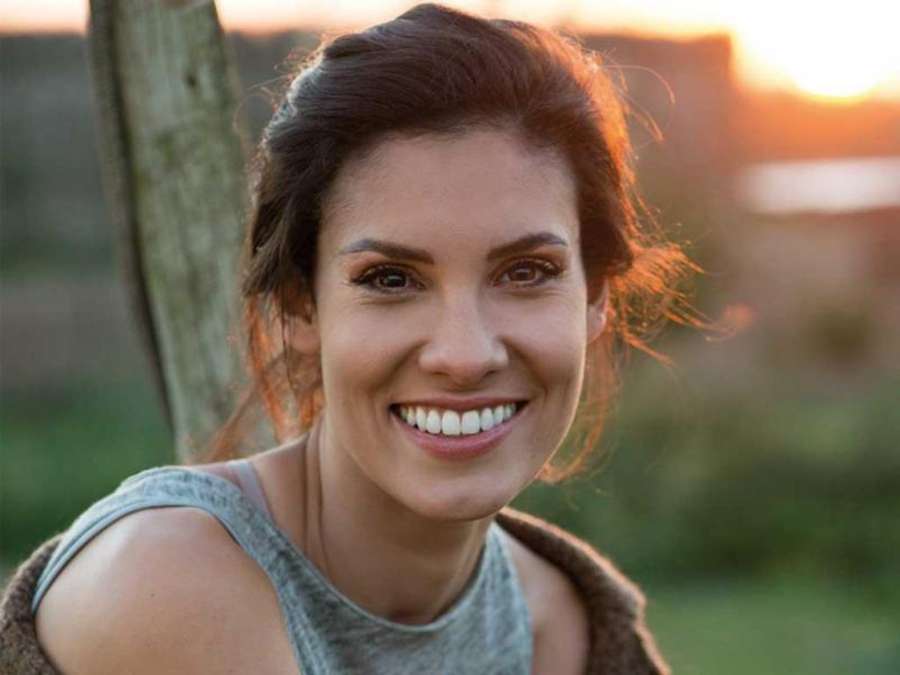 By Maria Ana Ventura from Up Magazine
Read the full article here.
"'I thought I was prepared to work in a bigger film market and improve myself as an actress.' It was then that she crossed the Atlantic again to live in New York, where The Lee Strasberg Theatre and Film Institute awaited her."
At the age of 16, while appearing in Portuguese homes with her roles in soaps, Daniela Ruah had a plan: "To finish school. Go to London to study, move to New York, and, finally, win an Oscar." After 11 years, she's almost done it all. All that's missing now is the golden statuette.
The goals this determined woman set herself might have seemed unattainable to many, but to her, they were nothing of the kind; which is not to say that things were plain sailing. Everything is based on a way of life, a motto, and hers is: "If you don't aim for the stars, you won't even make the clouds." "This sentence represents my way of being and thinking, both in personal and professional life. If we don't expect more of ourselves, we can't achieve even half of our capabilities." And she knows what she's talking about!
Flashback
Daniela's story began on 2nd December, 1983, in Boston, USA. At the age of five, she moved to Portugal, where her parents came from. It was at this time that she became interested in the performing arts. "As clichéd as it sounds, I always knew I wanted to be on stage. Dance was my first love", says the winner of the first Dança Comigo (the Portuguese equivalent of the American TV show Dancing with the Stars) "but nowadays I wouldn't swap acting for anything."
Daniela was still at school when she made her television debut. At the age of 18, and with other roles already in the pipeline, she packed her bags for London. She finished her Performing Arts course at London Metropolitan University with a distinction and came home to do more soaps, theatre and some cinema. "At 23, I thought I was prepared to work in a bigger film market than ours and improve myself as an actress." It was then that she crossed the Atlantic again to live in New York, where The Lee Strasberg Theatre and Film Institute awaited her.
"Starting out as an unknown actress is always difficult, but it's all part of the process. There were times when I felt de-motivated, but I never ever thought of giving up!"
Chasing after an agent is a must for any actor who wants to succeed in the States. Daniela had luck on her side. And that, coupled with her talent, led her to Gersh, a top-flight agency with actresses like Kristen Stewart of the Twilight saga and Emily Deschanel, who plays Temperance Brennan from the series Bones on their books. It was through Gersh that she got NCIS: Los Angeles, the series that catapulted her to stardom.
Screens, both big and small
Despite being a new kid on the block, Daniela loses none of her sheen alongside Chris O'Donnell, LL Cool J, Eric Olsen and Oscar-winning Linda Hunt. Kensi Blye's character fits her like a glove: energetic, intelligent, determined, funny and keen. Ditto Daniela. Maybe these were some of the strengths that got her cast as Sofia in Red Tails, the film written and produced by George Lucas (the producer, director, writer and founder of Lucasfilm, and author of the Star Wars and Indiana Jones sagas).
"Red Tails is based on the story of the first African Americans to be accepted and respected by the U.S. Air Force during the Second World War. The story is set in Italy and my character is an Italian woman in love with one of these pilots." Speaking of the casting for this production, Daniela told the Expresso newspaper: "When I found out they were looking for an actress to play the role of an Italian woman I told my agent, Rhonda Price: 'I'll speak any language necessary. I'll be whatever they want.' And I went home to rehearse my lines with the help of Italian colleagues. Rhonda was clever, because she told me: 'Don't speak English before you speak Italian, that way you'll make a bigger impression on the director.' The following day, with her lines learnt, she confidently said in Italian: 'I should rip your throats out with my bare hands'. "In January they called me to say that I'd got the part."
Daniela Ruah joined names like Maria de Medeiros and Joaquim de Almeida among the ranks of successful Portuguese actors in Hollywood. "For me, both Joaquim and Maria are great examples of how to make it internationally, and they're an inspiration to any young actor." Part of a very talented new generation of actors in Portugal, Daniela heads the list when it comes to international recognition. However, she puts things into perspective: "I try not to make too much of it… There are other actors of my generation working outside Portugal, like Benedita Pereira and Leonor Seixas."
And while we're talking about influences and inspiration… which Portuguese director or directors would make you return to shoot a film here? "I Iike and keep up with Portuguese cinema and I'm really interested in working on projects in Portugal, as long as I'm available. It would be an honour to work with a great director, such as Manuel de Oliveira, and I really like the work of António-Pedro Vasconcelos, Marco Martins and João Salaviza, among others."
Although she is a little closer to achieving the last thing on the plan she mapped out at the age of 16, Daniela doesn't kid herself. "When that happens, my performance will be seriously affected." Winning an Oscar is a dream, but what's more important is "building a solid career with steady work, good roles and where my name is synonymous with quality. As an actress/woman, my dream is balancing a career, a family and a happy home."
Daniela Ruah is an alumna of The Lee Strasberg Theatre & Film Institute®. Learn more about the programs and classes available here. Apply here.