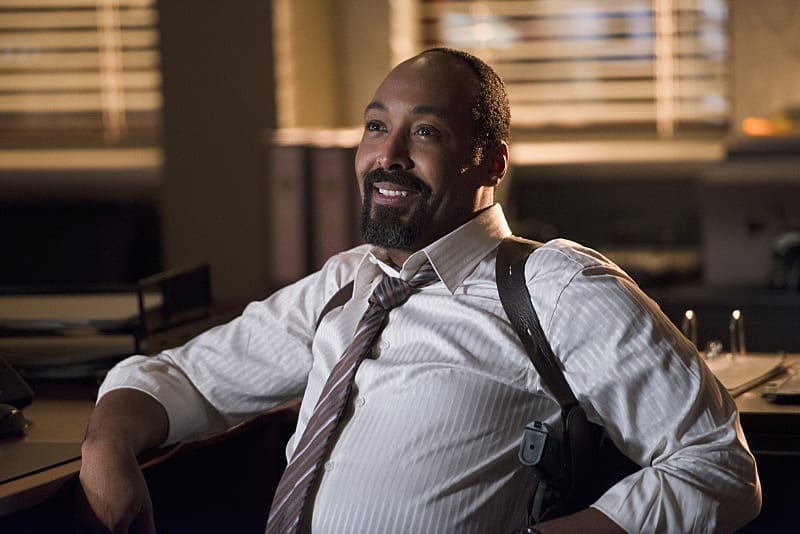 From JesseLMartin.com
Read the full bio here.
"Jesse L. Martin enrolled in New York University's prestigious Tisch School of the Arts Theatre Program and attended Lee Strasberg Theatre and Film Institute."
Jesse Lamont Martin was born the third of five sons on January 18th, 1969 in Rocky Mount, Virginia. Martin was often shy and did not like speaking in school because of his thick southern accent. His grade four teacher suggested he join the school play and cast him as the pastor in The Golden Goose. Thereafter he attended high school at The Buffalo Academy for Visual and Performing Arts, where he was voted "Most Talented" in his senior class. He later enrolled in New York University's prestigious Tisch School of the Arts Theatre Program and attended Lee Strasberg Theatre and Film Institute.
He toured the United States with John Houseman's The Acting Company, which was his first paid job as an actor. He appeared in Shakespeare's Rock-in-Roles at the Actors Theatre of Louisville and later in The Butcher's Daughter at the Cleveland Playhouse. He also had a couple minor roles on One Life to Live and Guiding Light. He worked at the Moondance Diner in New York City, where he met RENT composer Jonathan Larson. In 1993, he made his Broadway debut in Timon of Athens as Alcibiades' Officer/Second Masseur/Alcibiades (understudy), and then performed in The Government Inspector as Abdulin/Panteleyeva (understudy) in 1994. That same year he was also in the Off-Broadway production of The Arabian Nights as Prince of Fools/Clarinetist/Boy. His breakout role would come as Tom Collins in 1996 in the original Broadway production of RENT. He would later recreate the role in 1998 during the West End production alongside fellow cast members Wilson Jermaine Heredia, Anthony Rapp and Adam Pascal, and in the 2005 film version.
He appeared in several episodes of Ally McBeal after RENT, and in 1999 landed a main role, as Detective Ed Green, on NBC's long-running crime drama Law & Order. During his time on Law & Order, he took time off to shoot the film version of RENT, during which time he reprised his role as Tom Collins. He left Law & Order in 2008 after nine years to pursue other projects. In 2009, he guest starred in NBC's The Philanthropist as Philip Maidstone, the  business partner of Teddy Rist (James Purefoy). However, the show was short lived  and cancelled after only eight episodes. Martin then went on to star in repertory  performances of The  Merchant of Venice (as Gratiano) and The Winter's Tale (as King Polixenes) during the 2010 Public Theater's Shakespeare in the Park. He returned to Broadway later that year when the former of the two shows transferred to the Broadhurst Theater, on Broadway, and opened on November 7th, 2010. The show was to end January 9th, 2011, but was extended until February 20th (after a three-week hiatus following January 9th), but Martin was unable to join the extension because of previous commitments. The show was also nominated seven Tony nominations, including Best Revival of a Play.
Most recently, Martin appeared on NBC's SMASH for nine episodes as Scott Welker, the artistic director of the Manhattan Theatre Workshop. In January 2014, it was announced that he was going to be in the pilot of Arrow spin-off The Flash as Detective West. The show was picked up by the CW in May 2014 and airs on Tuesdays at 8/7c.
Jesse L. Martin is an alumnus of The Lee Strasberg Theatre & Film Institute's program at New York University. Learn more about The Lee Strasberg Method Acting™ BFA program at NYU Tisch School of the Arts.