By Michele Manelis for News.Com.Au
"I studied method acting for almost ten years. I studied [Lee] Strasberg."

Lady Gaga, LSTFI alumna
LADY Gaga is just 29-years-old but says her years in the limelight make her feel elderly. The showbiz veteran admitted she used these feelings to portray a 100-year-old blood-guzzling creature, The Countess, in her acting debut on the fifth series of American Horror Story.
Although this is her first ever onscreen performance, the larger-than-life star has a reputation for transforming herself into different characters.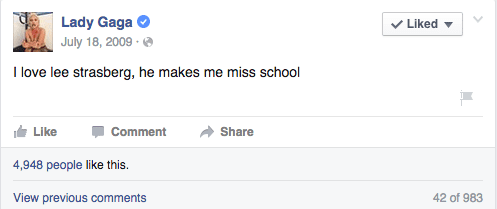 "I studied method acting for almost ten years. I studied [Lee] Strasberg," She laughs, acknowledging the possible pretentiousness of her statement. "Arguably, it's the most dangerous form of acting, where you embrace becoming the character and you embrace calling upon memory sensory from your life. It's powerful and it takes you back implicitly to a place that you remember as a child. It's very strong."
"[The Method is] powerful and it takes you back implicitly to a place that you remember as a child. It`s very strong."

Lady Gaga, LSTFI alumna
Not only using her emotional experiences, the Grammy award winner said she tried to physically transform herself into her character each day.
"I become The Countess in the car on my way to work. I put fishnet on my face and red lipstick on and I read my lines. I am always prepared before I come to the trailer. And when I go home at night, I do my best to let go of her in order to become what I am for my family, my friends and my lover."
Arguably one of the world's most polarising stars, Lady Gaga was born Stefani Joanne Angelina Germanotta. She grew up in Manhattan, the eldest of three children raised by her father, an internet entrepreneur, and her mother, who worked in telecommunications. She attended a strict Catholic school and has described her formative years as ones "not fitting in." At age 20, she made good use of those angst-ridden feelings of alienation to become the eccentric Lady Gaga.

It seems that she found a kindred spirit in American Horror Story creator, Ryan Murphy. Her eyes well up when she says, "It's destiny. With Ryan, soulmate feels like too small of a word because it implies it's someone with whom you will spend the rest of your life. But I know that with Ryan, through this role, he gave me a sense of self beyond what I believed I was. There have been people who have truly believed in me, but they have also betrayed me. A couple of years ago people were making fun of me but he believed in me," she says with intensity. "So playing this role is a dream come true."
"I went to acting school for almost ten years growing up. I went to the [Lee] Strasberg Theatre [& Film Institute] downtown."

Lady Gaga, LSTFI alumna
Lady Gaga is an alumnus of the Young Actors at Strasberg at The Lee Strasberg Theatre & Film Institute®. You can more about the unparalleled programs offered at LSTFI here. Apply here.