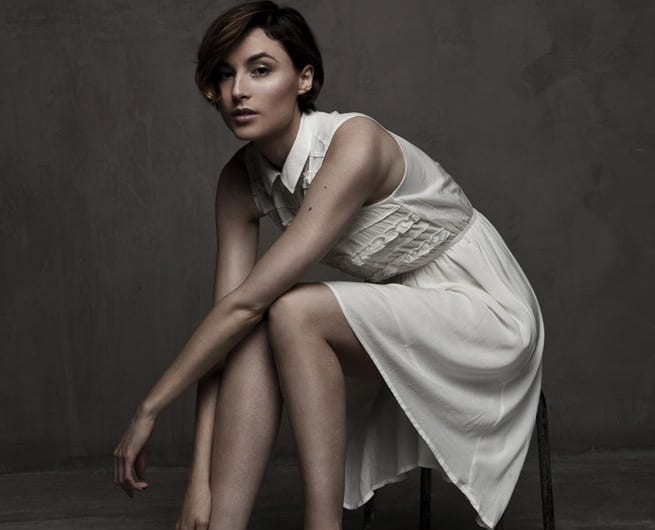 By Eric Walkuski from Joblo
"It's fun to work with people I feel really connected with; I just want to work with people I really admire and who inspire me."

Loan Chabanol, LSTFI alumna
Loan Chabanol isn't a name that likely rings out in the movie world, but that's because she's only been in three movies. But those three movies saw her working with the likes of Woody Allen and John Turturro (FADING GIGOLO), Liam Neeson and James Franco (THIRD PERSON) and now mega-producer Luc Besson in THE TRANSPORTER REFUELED, the action franchise reboot starring Ed Skrein (in lieu of Jason Statham).
A lot of up-and-coming actors would kill to have that kind of early success, let me assure you. Born in Paris, the French beauty has worked as a model since she was 16, but in 2010 she decided to study acting in New York at the prestigious Lee Strasberg Theater and Film Institute. It would appear that the gamble paid off.  
Loan is also an accomplished artist, and actually has a show coming up in New York in late September. She was kind enough to take a break from preparing for it and talk to this fellow New Yorker about her shady TRANSPORTER character, her love of art and animation, her desire to kick ass, working with Woody Allen and whether or not she's ready to take a shot at directing too. (I mean, she's already conquered every other field…)
What can you tell me about your role in Transporter: Refueled?
Have you seen it?
I haven't yet, I'm seeing it this week. Have you?
I have seen it, it's a great movie. Very entertaining. I play the role of Anna, she's a mysterious, manipulative woman. Very determined, she's got a mission, and she's just going to go all the way until she gets what she wants. She's very fascinating.
Is she good or is she a villain? Or somewhere in between?
[Laughs] Ah-ha! That's the question. I can't tell you. She's a little bit of everything, I think. When you see the film, you'll understand and judge less of what she does because you'll see where she's coming from. I can't really tell if she's a villain or a good person.
Were you able to take part in any action scenes or perform some dangerous stunts?
I was pretty safe with the stunts, most of which were in a car. So no, I was not. I wish I was, but I think that would require serious training, but there are people who do that, that's their job. Besides that, I did most of my scenes that required a little action. I'm not doing as much action as Ed [Skrein] for example, but I did as much as I could. I wish I could have done more, but my character didn't require too much.
Do you want to do more of that kind of thing in the future?
Yeah! I actually did five years of Muay Thai, which is the Thai martial arts, so I've been training for a while. When I got the part, I thought I was going to kick ass. [Laughs] I do, but in other ways, so it's okay. Physically, I just stay very much a woman.
I assume you get to wear a lot of glamorous dresses?
Yes, she's very feminine. Very attractive, and I think she knows it too, which makes her very dangerous. [Laughs]
Are you a fan of action movies?
Yeah, I love action films, sci-fi, I've always been a big fan.
I also imagine it was a thrill to work with producer Luc Besson, who is of course is also from Paris.
Oh yeah, amazing. It's a dream come true, you know? If you pick people in each genre with whom you want to work, he's definitely one of them.
You moved to NY a few years ago to study acting after years of modeling; what was the driving force behind that?
I think I always wanted to do something else. Being a model, I actually became bored very quickly, and acting was something I thought I could do. So I had to try it.
In addition to modeling you're an accomplished artist, but do you think acting could now be your biggest passion?
No. I've been an artist since I was 5, since I was really young. I've been enjoying painting for a long time. I'm also really interested in animation, so that's something I really like.
What are your favorite types of films?
I really like old films, silent films. I've seen all of Charlie Chaplin's movies. Buster Keaton, Harold Lloyd. All those visionary people. I love Tim Burton, who has this animated touch to his work, because he started as an artist too.
Will you continue to pursue acting?
Yeah, I think so. It's fun to work with people I feel really connected with; I just want to work with people I really admire and who inspire me. So it might just be only a few films, I'm not really looking to do so many films. I'm kind of going with the flow, I always go with the flow, so I'm not really ambitious in that way.
In a short amount of time you've worked with people like Woody Allen, James Franco, Liam Neeson, Mila Kunis…
I know, I feel really blessed. But I always like to do my own projects. Like I said, I love animation, so if I can do my own animated film, I'd be really excited about it.
So you're an actor, a model, an artist. Do you think you'll conquer directing next?
No, I don't think I have the talent for it. [Laughs] It takes a lot of psychology to talk to all those people and manage this whole team, and I think I have to manage myself first. It's not a direction I even think about.
If you were making an animated film you'd kind of be the director.
In that sense, yeah. I'm much more comfortable with a creature that does not exist. I've done it already in a short, I'm going to be showing it at my next art show which I'm having next month in New York. That will be my first experience of seeing my characters moving.
Are you nervous about the show?
I think I'm okay, I guess I will be on that day. It's almost like giving birth to a baby. I'm kind of shy about showing that part of me, but I think the most important part is that I did it and it's done now, so I just need to show it and then move on to something else.
Who has been the most interesting person you've worked with so far?
Woody Allen. He's awesome, I was blessed to spend a whole day with him. He was acting in the film, he was not directing, John Turturro was. We were hanging all day; he's a really funny guy. He's really quiet and very professional. I was very impressed with how he concentrated and focused before the scene was shot. Like, I was joking around, I'm always joking around, and he was not joking around. I was like, "That's weird!" He's super serious, but he was really nice to me. John was like, "Woody really likes you, he thinks you're cool."
Is he going to cast you in his next film?
I hope he will! [Laughs] I would love to, who wouldn't?
Other than Woody, is there a director you'd like to work with?
Tim Burton. Clint Eastwood. There are so many talented people, it's hard to think about all of them.
Well, thank you for your time. Good luck with the art show, I'll try to make it!
Try to come, everyone will be there!
Loan Chabanol is an alumna of The Lee Strasberg Theatre & Film Institute®. Learn more about the programs and classes available here. Apply here.