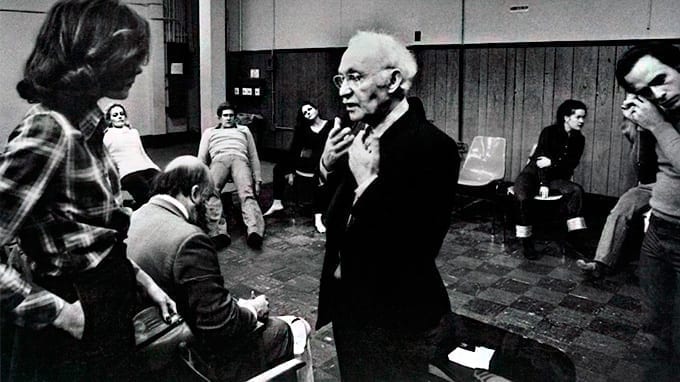 By Michael Kostroff from Backstage
Read the full article here.
"Through it all, The Lee Strasberg Theatre & Film Institute® has remained a mecca for those with a passion for the craft of acting."
It's 6:45 on a Monday evening in Los Angeles, and while many Angelenos are arriving home and unwinding after a day of work, at the intersection of Santa Monica and Hayworth, the work is just beginning. There is nothing particularly notable about this West Hollywood corner, but as the clock inches toward 7, a small, lively group is gathering here. Some polish off cigarettes; others grab snacks at the 7-Eleven across the street. Some are busily discussing the work at hand. These engaged, motivated individuals—mostly young, many from other countries—are students at the Lee Strasberg Theatre & Film Institute.
Dedicated thespians have gathered like this for decades, before class, on East 15th Street in New York City, where the institute was founded, and here in Los Angeles, where its West Coast branch opened shortly thereafter. Styles have changed. Social behaviors have changed. Wars and regimes and inventions and lives have come and gone. Through it all, The Lee Strasberg Theatre & Film Institute has remained a mecca for those with a passion for the craft of acting. And all those we spoke with say they came here not to get discovered or to become famous or to make contacts. They came with one pure goal: to become better actors.
From Russia With Love: A Brief History
In 1923, Stanislavsky brought his Moscow Art Theatre to the United States. In attendance at one of those performances was the young Lee Strasberg. For Strasberg, the moment was a turning point. He'd seen acting before, but never so powerfully human, so deeply connected to honest behavior and emotion. Not long after, it became his chief mission to train actors to present greater truth in their work.
Strasberg began by studying with two of Stanislavsky's students. Then, in 1931, he co-founded the Group Theatre. In 1951, he became director of the legendary Actors Studio. And in 1969, he founded what is now the Lee Strasberg Theatre & Film Institute. Building on Stanislavsky's work, Strasberg became the country's foremost teacher of the Method—and revolutionized the study of acting for generations to come.
"It is more real; it is more grounded."

-Jennifer Esposito, LSTFI alumna on Method Acting
40 Years Later…
Jennifer Esposito (Spin City, Crash, Samantha Who?), a self-confessed Strasberg Method junkie, agrees: "It's more real; it's more grounded. It gets really specific. And it's those little specifics that make great actors—those specific things that they bring to a character. The actors we always talk about, they all studied Method acting." Even now, in the heat of a rising career, Esposito enthusiastically reminisces. "I love that place," she gushes. She loved it so much that her longtime instructor and mentor George Loris had to kick her out and into the "real world" of professional show business. Even now, she relishes opportunities to go back and lecture at the institute.
The education offered at LSTFI appears to have remained vital and relevant in the four decades since its inception, owing perhaps to a philosophy that accommodates new ideas. It's a philosophy that, David Strasberg tells us, was urged by his father: "He would say, 'If I tell you to do something and you can't do it and it doesn't work, then who cares that Lee Strasberg said it? You can't keep using something that doesn't work.' If there's something that's more effective for an actor, we will do it." But "we haven't found that yet," he says. "And that's where we always hang our hat. We always say, 'The work works.' "
LSTFI alum (a senior at NYU at the time of this article), Danny Jolles is part of the new generation of actors at Strasberg, and living proof that the work still works. "It's a very practical method," he says. "I do a lot of comedy, and even there the Method is always something I can rely on. It was the first method that made sense to me." Following in the footsteps of so many great actors, he says, is an honor and an encouragement. "It makes you believe in what you're learning even more."
"The Method is timeless."

-Ashley Bell, LSTFI alumna
Those Who Can, Teach
To ensure that his work would be faithfully taught to future generations, Strasberg trained teachers personally and gave them a sequence for teaching his exercises. "We are fortunate enough to have teachers who have been with us for 30-plus years," says Krane, who is the institute's president. "Teachers are encouraged to work at their craft, so that they remain fresh and vital and are not doing this because they can't do anything else."
The institute gives its instructors structure and flexibility. "We don't believe in rules here," says David Strasberg, "but we do believe in principles. And the school has stayed true to those principles." That malleability within the instruction appealed to alumna Sarah Bradford (The Young Victoria, When the Devil Comes). "What is interesting is that while the institute specializes solely in the Method," she says, "each staff member has their own belief and unique approach to teaching what they individually believe. I essentially took whatever resonated with me most from each teacher, completing my study with my own 'Sarah's method.'"
"The Method is timeless," says Ashley Bell, who studied at the New York school from 2006 to 2007. "The technique you learn offers you something concrete, something you can trust and rely on in the seemingly ephemeral field of acting."
Getting There
Actors find their way to the institute in a variety of ways. For actor-writer-comedian Jim Dailakis, one famous performance closed the deal. "I saw Al Pacino in Dog Day Afternoon, " he recalls. "I was so impressed that at 12 years old I said to myself, 'Wherever he went to learn how to act that way is the same place I'm going.' I was living in Perth, Australia. It was 12,000 miles away—literally halfway around the world! It didn't matter. I felt like this is where I belong."
"Wherever [Al Pacino] went to learn how to act that way is the same place I'm going."

-Jim Dailakis, LSTFI alumnus
Actor-director Sara E. Widzer, who now teaches at LSTFI, found her way there through a Connecticut College encounter with Anna Strasberg, who came to offer a weeklong master class for the theater department. "It was an extraordinary experience," Widzer recalls. "I was a sophomore and in the middle of what some might call that infamous 'sophomore slump.' Anna came and inspired each of us to strive for greatness, and did so by reminding us that each of our eccentricities, everything that made us different, was in fact what made us special and unique. Needless to say, this first encounter impacted me greatly. I went on to seek out a summer program at the Los Angeles Institute. It was during that time that I was thoroughly introduced to what the school, the Method, and each of the amazing teachers had to offer."
But not just anyone can study there. "Anyone can apply," says Krane. "However, we really try to encourage students who have done their homework and want to study The Lee Strasberg Method™ and are willing to go the distance."
"What we're really looking for is commitment," adds David Strasberg. "No one comes to The Lee Strasberg Theatre & Film Institute to be okay. The actors who end up at Strasberg really want to be great. They feel something huge burning inside of them, and they say, 'I have got to do this,' and they end up at LTSFI. If not, they go and do something else. They go to a casting seminar."
Fame, and Other Myths…
Unlike those casting seminars, and unlike some other acting schools, The Lee Strasberg Theatre & Film Institute never dangles the fame carrot, in spite of its long list of famous alumni. Says David Strasberg, "I always tell my actors, 'If you don't love what you're doing now, sitting in a room, working, rehearsing, exercising, struggling, failing, succeeding, then this is probably the wrong business for you.' "
"You come to LTSFI to get better."

-Danny Jolles, NYU Tisch at Strasberg alumnus
The Next 40 Years
The artists at The Lee Strasberg Theatre & Film Institute say they plan to continue to faithfully carry the torch passed to them by their founder. And of course, LSTFI will continue to focus on the craft of acting, and the work of training actors to act better. After all this time, its beacon burns bright, drawing those who are hungry for that endeavor. "Strasberg endures," says Krane, "because we were left with a gold mine of material that was relevant when Lee developed his work and is just as relevant today."
Carrie Ann Quinn summarizes thusly: "I believe [Strasberg] has remained popular, firstly, because it works. It works in developing interesting, fantastic, and moving actors that audiences love to see. The institute is a warm, friendly, and artistic place to be. I found it supportive, motivational, and [it] remarkably changed me—changed me as an actor, changed me as a human being—in the way I view the world and respond to it, personally and professionally.
"As a Strasberg teacher once said to me, 'You can become a better actor by becoming a more complete human being, and you can become a more complete human being by becoming a better actor.' That is what I learned at Strasberg: the importance of exploring both my humanity and my acting—a pretty lofty goal."

-Cathy Ann Quinn, LSTFI alumna
The Lee Strasberg Theatre & Film Institute® is the home of many of the most brilliant and truthful actors working in the arts and entertainment industries. Learn more about the programs and classes available here. Apply here.