"There are countless, genius soundbites of several of my teachers that replay in my head."

-Max Weinstein, NYU Tisch at Strasberg alumnus on his teachers at LSTFI
This past January, NYU Tisch at Strasberg alumnus Max Weinstein traveled to Shanghai to appear as Greg in a Baayork Lee-directed production of A Chorus Line. This international triumph has been a long time coming for Weinstein, who reprised his role after appearing as Greg in a regional production in Connecticut. The show's Chinese premiere was an immense success overall and for Weinstein himself, as he carves a place for himself in the entertainment industry. After taking a master class with Baayork Lee, Weinstein initially auditioned for the tour of A Chorus Line during his senior year at NYU. He made it to callbacks during that round of auditions and gained reassurance from Lee that he should audition again while she was teaching at the New Studio on Broadway, where Weinstein pursued his advanced training at Tisch. "She told me to keep working at it because I was so close," he says. After auditioning for a second time, he booked the part and was headed to Shanghai.
In delving into the inner life of Greg, Weinstein found himself seamlessly imbuing pieces of his own life into the character. "Yes he's Jewish and gay," he says. "But there are other pieces as well." Greg, like Weinstein, is greatly interested in clothing, aesthetics, and the more refined aspects of life. Early in the show, each character introduces themselves to Zach, the director. Greg, having had a prior relationship with Zach, makes light of their reunion and introduces himself using his real name, his Jewish name, and his stage name. "I always joke I can do the Greg intro using my own name, my real Hebrew name, and a joke stage name I debated using when I first moved to New York," Weinstein says.
During the rehearsal process, Weinstein made a conscious effort to have the only outside voice in his head be that of Michel Stuart, the man whom Greg was based off of. This proved to be a great asset for working with Baayork Lee, as she was part of the genesis of A Chorus Line and knew each and every real voice that contributed to the behemoth of a musical audiences know today. Seemingly tiny nuggets of information proved to be remarkably useful in justifying moments throughout the show. "Learning from Baayork that Michel Stuart was formerly Michael Bennett's boss was a hugely helpful piece of information," he says. For Weinstein, this allowed Greg's treatment of Zach to weave more naturally into the rest of the arc of the show.
By performing in China, Weinstein experienced the universality of art and was reminded of the intrinsic, ineffable human qualities we all share. "We were able to meet a ton of fans who came to the stage door every night," he says. "People were so moved by our characters and the main sentiment of what you do for love." On the other end of the spectrum, laughter also erupted from the audience at all the right moments. One of the characters, Mark, humorously shares a story of misinterpreting his first wet dream as gonorrhea. Thanks to some punctual subtitles, the joke was not lost in translation, and an embarrassing incident of adolescence was shared across cultures.
"Its impact hit me the most after I left the two years," Weinstein says of his primary training at Strasberg. "There are countless, genius soundbites of several of my teachers that replay in my head." Weinstein goes on to speak of the rigor and discipline that training in the Method gave him and the ways in which personalization acts as a key to bridging the gap between actor and character. Looking towards the future, Weinstein speaks of aspirations of a fruitful career on stage and screen but asserts a specific love of working on stage. He identifies the stage as a haven of mindfulness and introspection that has real power to affect change. "If my work can bring joy, a respite from troubles, or even more profoundly, cause someone to look inward, to examine their lives, their relationships, experience an emotion that they've repressed – that's one of the main reasons I'm an actor."
Max Weinstein can be found online at www.maxjweinstein.com or on Instagram at @maxjweinstein.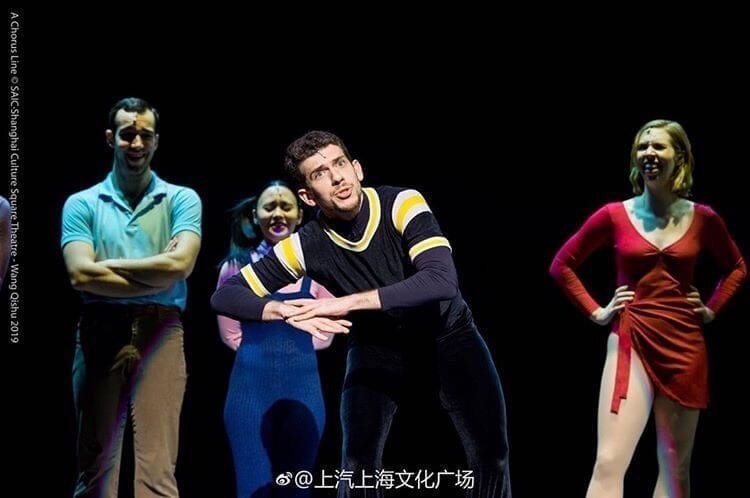 "People were so moved by our characters and the main sentiment of what you do for love."

-Max Weinstein, NYU Tisch at Strasberg on the international tour of "A Chorus Line"
Alumni News is written by NYU Tisch at Strasberg alumnus Will Brockman. If you are an alum and have a story you think should be featured, please email [email protected].