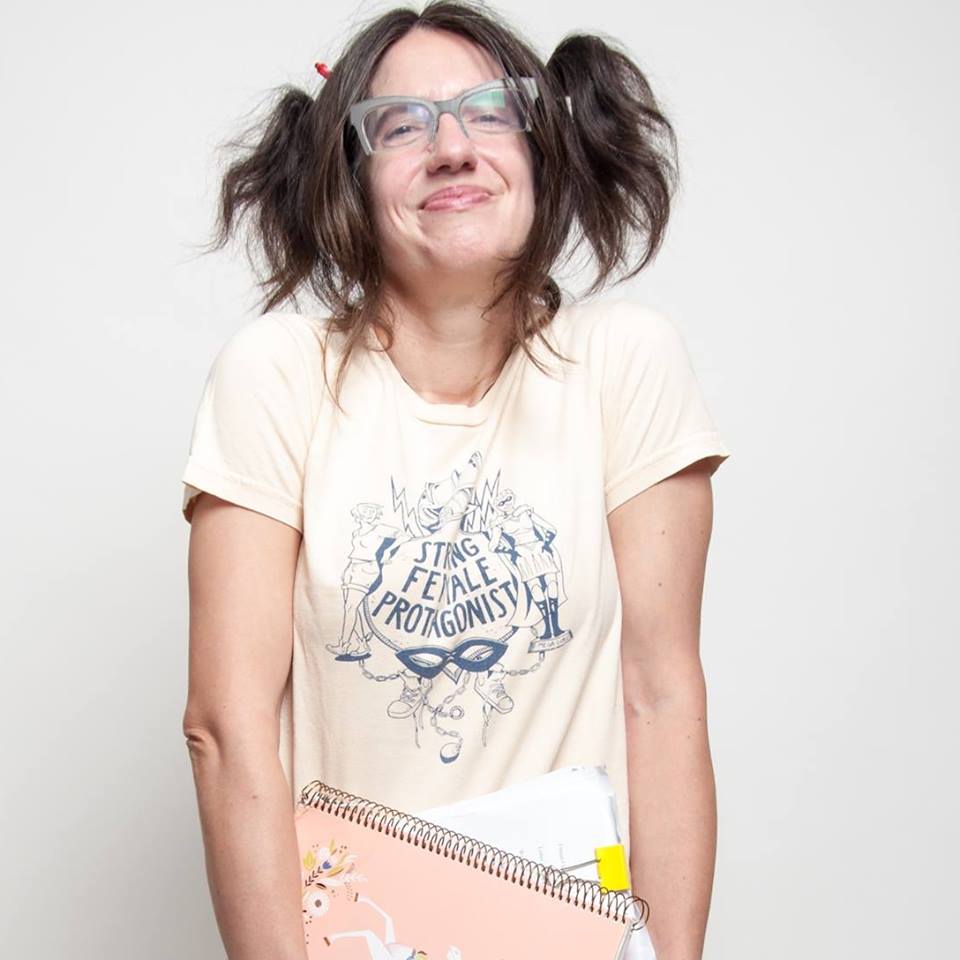 We had a chance to sit down with Crystal Skillman, who is in the process of writing Pulp Verité, a new work for The Clifford Odets Ensemble Play Commission. She shares the beginnings of her story and process in the interview below.
Crystal is an award winning Brooklyn based playwright. Her recent plays King Kirby, co-written with Fred Van Lente, Geek!, and Cut, have all earned Critics Picks from the New York Times. Her first produced full length The Vigil or The Guided Cradle won the 2010 New York Innovative Theatre Award for Outstanding Full-Length Script. Wild, following its debut in Chicago, premiered in New York last year where the play was nominated for three NY IT Awards. Another Kind of Love, her drama about a family of punk rock singers set in Seattle, has been developed at theaters around the country, most recently at NY Stage and Film, as part of the Lark Play Development Center's retreat, and will be produced this Spring in Chicago with InFusion Theatre Company. Drunk Art Love, her comedy set in art school, has just become a new web series released online. Crystal is at work on her new play Rain and Zoe Save the World, as well as co-writing with award-winning composer Bobby Cronin the book for their musical currently in development (Un)Lucky in Love (Formally Concrete Jungle). She is also thrilled to be a part of the creative team of the musical Mary and Max, based on the film, which will feature Bobby's music/lyrics, Outer Critics Circle Award-winning Stafford Arima direction, mask design by Joseph Osheroff and puppet design by AchesonWalsh Studio, currently in development this summer. Crystal is represented by Amy Wagner and Ron Gwiazda at Abrams Artists Agency in NY, and James Beresford with Shepard Management in the UK.
First, can you tell me a little bit about yourself?
Crystal. Well, I'm a playwright, and I'm a part of the Women's Project Lab and Alumni. I kind of have this reputation for writing plays that are very actor- and character-driven and writing plays that actors love to do. I feel like the thing I keep coming back to is the relationship between creation and destruction in art and the culture. I always look for ideas that really relate strongly to what's happening today. I ask the "why today" of the whole concept or idea before I even start to write. One of my plays, Rain and Zoe Save the World, is about two fifteen-year-olds who steal a motorcycle, and they drive across country, shutting down coal plants as they go. The structure, for me, always comes from the concepts and ideas, so Rain and Zoe is a journey story; it has 23 scenes. It's kind of unachievable and crazy. The actors all play the motorcycle, so the theatrical roles are created by the actors themselves. Since working with Daniel Talbot and Rising Phoenix Rep, which is kind of how I started, I'm coming back to my roots in writing for The Lee Strasberg Theatre & Film Institute® students. I'm really excited about my group.
I think I have ten really strong and exciting actors; we talked a lot about their interests. I asked them all their "why today" and about the things on their minds, and it was global issues. There was global warming, but a lot of issues of war and protest came up. Sometimes they shared very personal stories, and sometimes there was the angst of speaking up and trying to deal with the issues that keep coming up: How do we address them? How do we move past it? You know, just big, big questions. An actor remarked on coming up during one of the protests of the shootings, around the time of Ferguson, in Union Square. That may not be that exact one; it's sad that I can say, "It may not be that exact one." He lives in Union Square, so he came up out of the subway and wanted to help, but he also felt like he was a part of the problem.
"For me, the issues of creation and destruction come back to the one simple fact that, if we can walk through a story with somebody, we can access their soul in a different way."

Crystal Skillman
For me, that's the genesis of the play. I've done the Hero's Journey before; I think all great dramatic literature is the Hero's Journey in some way. I was excited about the idea of The Heroine's Journey and investigating Cinema Vérité from the angle of Joy,a student filmmaker who's returned from Syria, and we're not really sure what's happened there. She's reconnecting with her classmates, and you realize that her sister, one of their crew, is still over there. This group tries to bring her back.
I think we're all thinking about ISIS, one way or another, and it brings up all those big questions about passion, religion, and terrorism. For me, the issues of creation and destruction come back to the one simple fact that, if we can walk through a story with somebody, we can access their soul in a different way. I think that's what theatre is. Theatre is going into a cave and doing that. In some ways, Cinema Vérité is also about that. I'm going to show you something that I think is truthful to expose the underbelly, and here's a filmmaker who's gone away and done that. Throughout the play, Kel, the filmmaker's sister, appears to Joy sharing fantastical, imagined stories to her, and you realize these stories are, in their own way, exposing what these two sisters went through over there. Joy isreally struggling with the angle of when something tragic has happened. How do we use story to transform it into something meaningful?
At the same time, all the students have to grasp the ethics of filmmaking. They all do different kinds of storytelling in filmmaking, and I think, in a way, they're all struggling with having the burden to change the world. You've got to find new ways to tell the story and new ways to make it truthful. I want the play to investigate that and turn it on its head.
In terms of how we process storytelling, there couldn't possibly be a better metaphor than film, and film affects everyone. I kind of want to talk about that, how the cultures are affecting each other. Everyone has a Hero or Heroine's Journey. There are a lot of articles about how everyone thinks they're the star of their own movie. We're all seeing ourselves as the protagonist, but any time we are in the protagonist role, it makes it complicated.
I guess I have an interesting relationship with reality and fantasy, so my work always deals with longing to recreate or transform tragic moments into something elevated and exciting. Maybe that's what I feel like my function is as an artist, but I know that I have a gift to be able to take good or bad moments and make them into something. I know everyone has that gift, because I do believe everyone- if they know it or not- has a creative spirit. That's something I'm really passionate to always try and do. It's kind of neat, because I do feel like they (the scenes) are little slices of life along this journey, in reconnecting with a loved one.
I call it Pulp Veríté, because there's a lot of violence explored in the story, and I think it's also important to note that we connect with violence. I think it's something we all really understand. No one's experiencing it in the same way, but we all get very extreme things of joy, creation, and destruction. The stories that she (the protagonist) is excited by come from the Middle East, and I want to also remind the audience of the beauty that is there, vocal and alive, but can get manipulated.
"That makes me excited; it means that I can be unafraid to go deep with them, because they want to go there."

Crystal Skillman
That gives me a lot of great places to go. Since you have a predetermined cast, what are some of the exciting aspects of that, and what are some of the challenges? Do you feel a need to equally represent people?
Crystal. Yes, definitely. It's truly exciting. I have trick questions that I asked them all. What roles do they typically play? What roles are they jonesing to play? I've worked with all these really strong directors in my career that believe in actors and cast them against type. It's amazing how magical that is. It really unleashes something powerful, so I heard from each of these students just where they'd like to go or where they haven't, so I'm unpacking the roles to reflect that. That's a real joy. The coolest thing is these guys really get along; they really know each other. In fact, when people weren't in the room, they would talk about the other students in really cool ways. "Oh did you ask her that question? She does this, and he does that." That makes me excited; it means that I can be unafraid to go deep with them, because they want to go there.
There's a lot of love for comedy. There's a lot of love for drama, but everyone is into the meaty work, which I really like doing. Everyone is into the truth of the work, which is what the play is going to examine. The play examines the truth, but then there is the story that represents the truth and the perspective of the truth. Where those things conflict, I think, is where we get violent actions. I think the scenes are going to be really dynamic for them, because there's going to be a lot brewing underneath. I'm always looking for things that explode in the room a little bit, you know. I'm really excited about bridging these ideas so we can, BOOM, land into a really strong scene. We can also really open up what the theatrical space can do and give the audiences a moment to dream and imagine. There can be stars and fire. There can be visuals. The space can transform.
For me, the word pulp, it's like candy, and storytelling is like that. That's why the news only works when it's a story. It can't work when it's just facts; it's more powerful when you know identities and people. Everyone's life is a beautiful, golden nugget, but we're not all treated like it's a golden nugget. The burden of trying to find peace in the world is how can we do that with everybody? How do we give each other that power? The one thing that you can give is to listen. I think, if we can start to listen or remind ourselves to listen, there are so many powerful, powerful things that can happen.
The protagonist, and this group of filmmakers, were driven to tell things their way. This night makes them question what that is, despite their good intentions. She had a certain way of going over there with a certain perspective and went through this traumatic experience. Now she has to listen, because now that's all she has left. She is an entirely different person. Listening, I think right now, more than ever, that's everything.
Because of how we share story, it's gotten to this incredible and scary place. What's neat is that we have a collective feeling; we have a pulse. We know that we're all worried, and we're worried about the same things. We're anxious about the same things, and we're excited about the same things. Perspective is another great thing that's come up in the culture and the conversation right now. We're beginning to understand, in the issue of diversity, that we can't tell someone how they should feel about their story or how they should live their lives. We have be individuals, and that has to do with culture and many, many things. We've got to listen more than ever, and I think, especially for white audiences, it's going to be pretty interesting. It'll be pretty subtle in this play, but I think it'll be in a way that's clear, evocative, and, I think, important. It's really about perspective.
I think one of the wonderful things about the way that The Clifford Odets Ensemble Play Commission is structured is that it opens the door for many different takes on the process. I'm curious how this is going to impact what your usual process is and how you see your relationship with the rehearsal room evolving throughout the process.
Crystal. I'm a big rewriter. I've gotten better, but I'm not looking to knock it out of the park in the beginning. I'm looking for it to be as tight as possible, but I want to hear the actors involved and rewrite. I do that consistently, and it's nicely set up for that. I'll probably be around during the first week of text work, and then I go away and let everybody bond. Then I come back, not at the very end, obviously- that would be traumatic- but close enough so that I have perspective. Shaun can always call me up and say, "How do you feel about this?" In these kinds of situations, it's kind of exciting because everyone's here to do a job; you trust everybody. Part of story is trusting. It's very important; it helps them rise to their best. They're already great; they're about to graduate and go out into the world. They're really ready, but for them to do their best work, there has to be trust.
Going back to the subject of perspective, do you feel any need to articulate something that the audience doesn't understand right now? Does that take you into meaty places in terms of your research?
Crystal. I think the only way to do it is with story and metaphor. I think it's a great situation for an audience, because they're grappling with it in the focus of their own lives, too. The personal things in people's lives are just as big as the political; people have to live in the world. I think, because of these breakout stories and because the stories are beautiful, she (the protagonist) is inspired by a culture that has fantastic beauty to it. I think it will be helpful to the audience to be reminded, too, that individuals choose moments where they celebrate life, and there's moments where they take away life. We have to start feeling comfortable with these stories, with the horror and beauty so that we can see it together and not be frightened and recede. We have to investigate things a little bit, because it's going to find us. For example, I was watching this documentary; they were filming these Afghan leaders out to fight the Taliban, and in the next scene, the interviewer announces that the footage was from the week before and they (the Afghan leaders) are all dead now. We can't talk about the value of life until we talk about death as well. Everyone loves the movies; everyone loves entertainment. It's just fascinating that ISIS is using techniques to film to try and recruit. I think audiences can really relate to the power of story and how it can be manipulated. It will be open-ended in terms of perspective, but a life is a life, so there's no defending that type of behavior.
I've set the play in a house in Martha's Vineyard in the winter, and while it all takes place in that setting, and around that area, these breakout moments bring us elsewhere. When I'm in that theatre, it really spoke to me that it didn't want to be in one fixed area, and it definitely seemed like it wanted to be in different settings and have a feeling of movement to it. That's also where the play came from, too, and I'm excited that the play will have ten people. I get to write for ten people; they can all be onstage at the same time. How exciting is that? I get to use the power of that.
"I feel like I got to see a little bit of them, and now I will try to give them back a really riveting play. Seeing them, it is like a slice of life… so grounded, and the speech and the simple actions of the scene are great."

Crystal Skillman
As all of these students are learning The Lee Strasberg Method Acting™ and will be graduating soon, does that impact how you're crafting these roles?
Crystal. That's something else, too, that really jazzes me. One of the reasons I really wanted to take the commission was that Victoria said to meet them. I kept talking about all these ideas that need to be unpacked for a large cast, and she just kept saying, "Meet them. The play comes from them." It's good that they were meetings and not auditions. That's unique to this. I feel like I got to see a little bit of them, and now I will try to give them back a really riveting play. Seeing them, it's like a slice of life. It's so theatrical, but you're peering into something. It's so grounded, and the speech and the simple actions of the scene are great.
This play settles into tense moments and slice of life moments with a lot brewing underneath, but we can still love these people and break out into something else. It's the power of language and theatrical storytelling. I'm really excited for them to play with that, and I think Shaun is really excited, as well. Shaun is really great with ensemble work and creating those kinds of moments; those breakout moments are going to be great. Also, my cast has a lot of awesome musical ability. A few play some instruments. Most can carry a tune. I'm a fan of songs, so some of these stories might end up becoming song. Songs are kind of creeping into all of my work, so there probably will be a little bit working with the students on that, too. I'm going to kind of use what they know, which is being a strong, tight-knit group studying together and how that influences them and doesn't. That applies in terms of their goals and ambitions, too, realistic and not, in terms of world change. It's a lot of big ideas, but I like to merge something political and big with a very personal, private. They may be able to contribute.
It's funny, but I listen a lot, and it'll go in the play. It's really captivating what goes on in the room. I also like to make sure when you sit down, you're like, "Oh, it's 2015!" To really capture that behavior, you have to take technology into account, and it's a great resource for us onstage. I'm really excited, also, that it's not a living room play. It's really exciting and sexy; as I'm writing it, I'm thinking about the romance of it, too. It's an angsty time, which they already naturally have, and I want to play on that and use that energy.
Crystal Skillman, who has been awarded The Clifford Odets Ensemble Play Commission, is writing the upcoming Pulp Vérité to be directed by Shaun Peknic, which will run December 10-12, 2015. A Gala will follow the December 12 performance.
Learn more about the NYU Strasberg program here. Learn more about The Clifford Odets Ensemble Play Commission and The Lee Strasberg Directing Fellowship here.