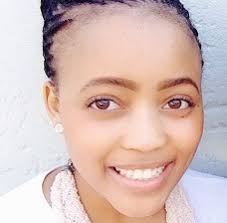 Ms. Palesa Sekati is a talented young actor from South Africa, whose childhood dream of studying The Lee Strasberg Method Acting™ in New York City has been recently realized. Get to know our newest Eleanora Duse Scholarship recipient in this brief interview!
"Back in high school, I knew two things: I want to do Method Acting and I want to go to New York."

-Palesa Sekati, LSTFI alumna
Why did you want to specifically study The Lee Strasberg Method Acting™? What lead you to apply to The Lee Strasberg Theatre & Film Institute®?
At first, I knew I wanted to go to a school in New York, and I knew I wanted to study Method Acting. My favorite actors practice Method Acting, and to capture the moment and be able to find the space when I'm performing as much as they have, that's what made me really interested in it.
Who are your favorite Method Actors?
The late one is Mr. Heath Ledger. Mr. Al Pacino, who's my complete favorite, and then I also like Mr. Robert De Niro. They're all male- not that I have anything against women, but that's who I like most.
You mentioned that you knew you wanted to come to New York. Do you want to work in New York after you graduate from LSTFI?
Yes, yes, yes! That's been my goal all along. In fact, I did something very silly. Back in high school, I knew two things: I want to do Method Acting and I want to go to New York, so I just planned that I wouldn't get a South African driver's license, because I thought it would be too permanent. It would just make me stay in South Africa. Now I don't have a driver's license, and I'm 23. It's not very practical.
Well you won't need one here, so it works out well.
That was my thinking. I'm not going to need one there, and I don't want to get one here. I think the universe is going to think that I'm trying to base myself here, and that's not what I want.
I'd assume you're more drawn to dramatic movies and roles because of your favorite actors. They're very well known for the great energy they bring. Can you talk a bit about the type of movies and plays that move you most?
In terms of movies, I really, really love The Godfather. It's my everything! That movie is my everything! I remember when I was in law school sitting there trying really, really hard to study, and I just needed motivation, I just would watch The Godfather and I don't know, somehow I just felt my inspiration to study for law from there. I also just watched Batman- the one with the Joker played by Heath Ledger- 2 years ago, I think, and I also really, really love that, and I was shocked it was my first time watching it. Those are my ultimate favorite movies. I also really like A Knight's Tale and A Walk to Remember, even though it's far from the other movies I named, but I really, really liked it. I cry all the time when I watch it; it makes me sad. It's a very, very sad movie.
What motivated you to become an actor? I can really hear and see the passion when you talk about acting and your favorite actors and your favorite movies. What ignited that dream for you?
I think that growing up, I was the first grandchild in my family- if I'm not mistaken- to be very outspoken and very, very inquisitive. So most of my toddler years when I was with my grandfather- who's passed now a really long time ago- I was spending a lot of time with him, and he was telling me a lot of stories. I just think unconsciously, that's where the roots came from. Then, as I started growing up and I used to watch The Sopranos– at that time I didn't really understand it, but my aunt was a fan, so I used to watch it, and I thought, "What are these people doing? That's so cool." At first, I used to think that was their lives, like that's them just playing their lives, until a later stage that I realized it was acting. This was really awesome, the fact that they had so much emotion. I don't know if you're familiar with a film in South Africa called Serafina- it's one of the most well known films in South Africa- but that as well, I remember crying when I watched that. I wanted to do that for someone what this movie has done for me.
Palesa Sekati is the most recent recipient of The Lee Strasberg Theatre & Film Institute's Eleanora Duse Scholarship. Learn more about the scholarships and awards available at LSTFI today. Apply here.