All across the country, small communities find themselves in a similar situation. There simply isn't enough money in the budget to keep theatre programs running full steam ahead. NYU Strasberg grad Dylan Tashjian wanted to find a creative way to confront this issue head on, and give the local community he grew up in the funding it needs to succeed. Tashjian along with co-founders Robert Fuller and Jordan Makant founded the Hickory Playground, a theatre company devoted to bringing original work to the community while simultaneously giving money back to the local arts scene.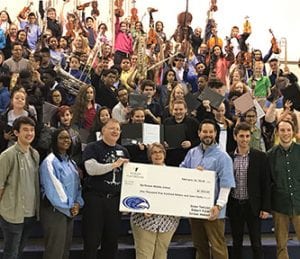 The Hickory Playground operates as a 10-minute play festival in which every show is rehearsed and produced in 48 hours. The Hickory Playground is just that – an open space in which local artists have the opportunity to create new work. "Recently we've had everything from Tinder hookup stories to the drug problem in Hickory, North Carolina," Tashjian says, "and how young teens are getting incarcerated for the rest of their lives for making mistakes when they're eighteen years old." This theatre company has existed as a means to allow local playwrights, actors, and stage crew to learn about what it really takes to make a play. He notes a marked difference in the increasing rigor and discipline that the artists come back with season after season. After its current season, the Hickory Playground will have produced 24 plays.
Now in its third season, the Hickory Playground has grown exponentially. With a budget of $3000 in its first year, Tashjian now operates the company at above $60,000 with over $10,000 going back each year to create opportunities for educational and community theatre throughout the local area. North Carolina is in a peculiar situation, which is something Tashjian slyly notes. His home state has the seventh highest GDP in the nation but is 49th in teacher pay, a disparity which only emboldens those at the Hickory Playground. "The impact we're making on the arts is my proudest accomplishment because we're able to keep these programs alive," Tashjian states.
Passion, Tashjian believes, is at the core of everything that is the Hickory Playground. He cites this as one of the main reasons for success, as well as the overall transparency of his organization. "If you're passionate enough about something, people buy into that passion," he says. In that, he has enabled his donors and sponsors to see and feel tangible results of their contribution. The impact is felt not only in the summer days which give birth to the performances of the Hickory Playground. The impact is felt in the community at large and has enabled schools and local theaters to simply have enough money to put on their shows. In Tashjian's own words, "Theatre is inherently community impact." He references his experience at Strasberg as a lightbulb moment, when he saw how much behind the scenes work goes into administration and the silent but necessary work that allows art to thrive. Tashjian goes on to say, "As an actor, I find that you have this opportunity to explore a character in depth when you do original work, and I want to make sure that other people have that opportunity."
This year, the Hickory Playground has added a training program to its roster. In conjunction with a consortium of local colleges, a batch of new theatre administrators and producers will gain in depth instruction and experience in the silent work that makes theatre possible. Tashjian is certainly leaving his mark in his hometown by giving the people there the tools they need to succeed. He expresses hope for the future of the arts not only in his hometown but across the country, and he sees the Hickory Playground as a model which other regional communities can take and implant in their lives. "I laid down this foundation and network of people," Tashjian says, "and now I want this next generation of theatre artists to build a house on it."
This year's Hickory Playground runs from July 26-28. Admission is free with a suggested donation. More information can be found at hickoryplayground.com