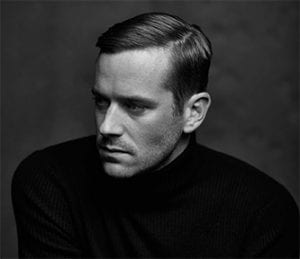 Fresh off the success of Call Me By Your Name, LSTFI alumnus Armie Hammer will be making his Broadway debut this summer in Young Jean Lee's Straight White Men. Beginning June 29th, Straight White Men will open at the Hayes Theatre for a 10-week limited run. The play was first brought to life at The Public Theatre in 2014 and also enjoyed a brief run at Chicago's Steppenwolf Theatre Company.
After training at The Lee Strasberg Theatre & Film Institute, Hammer found a home for his talent on the screen. Over the years, he has appeared in works such as The Social Network, The Birth of a Nation, Nocturnal Animals, and Gossip Girl and is now a Golden Globe-nominated actor. When asked by Vogue why he is choosing to return to the stage at this point in his career, he simply responded, "The easy answer is that it scared me. I've come to realize that the point of life is not to be comfortable – you should be in some sort of discomfort and pain at any given moment because that's the only way to grow, as an actor and as a person."
Hammer went on to say that he felt drawn to Young Jean Lee's work after portraying a gay man in Call Me By Your Name. Straight White Men centers around Ed, a widower who invites his three adult sons to a casual dinner on Christmas Eve. In this, Lee explores the way in which straight white men are blind to their own privilege and entitlement. Hammer is keenly aware of this in his portrayal of Drew, who is a successful writer still often prone to the effects of middle child syndrome. In speaking of his character development of Drew, emphasis was continuously placed on the blindspots of the character. "Am I less evolved than I think I am?" he said.
Young Jean Lee's Straight White Men is directed by Anna D. Shapiro and also features Dennis Arndt, Kate Bornstein, Josh Charles, Ty Defoe, and Paul Schneider. "It's extremely exciting," Armie shared with Playbill. "It feels like a culmination of my entire career and all of my training and if it doesn't work well, I'm going to call every one of my old acting teachers and ask for all my money back." We have a feeling he won't need to.