When Goya Robles first started working at the Lee Strasberg Theatre & Film Institute, he was working at The Cheesecake Factory. "All the ways I was making money had nothing to do with what I love to do," and he decided to teach others how to use their own acting instruments. After bringing in a letter of recommendation from Ellen Burstyn, who directed him in a staged reading at the Actor's Studio, he was hired. "I am very grateful for The Strasberg Institute," says Goya, "before Lee Strasberg I didn't know if I could teach." Now he teaches both Method Acting and slam poetry. Poetry has been an important part of his life and career. "[Poetry] is one of the few things that makes me deal with my darkness… I know I will write the truth." Through poetry and doing work with the Actor's Studio, Goya was "given the chance to state [his] own mind… and give everything to a character" when he was struggling with mental health issues.
Those outside of Strasberg would recognize Goya as Yago on EPIX's Get Shorty (also starring Chris O'Dowd and Ray Romano), which is now in its third season. Before he booked the role, he was focused on creating his own content instead of constantly worrying about auditions. "If I only worked for auditions, I never would have been in the position to meet my manager," the manager who got him the audition for Get Shorty. He met his current manager when he was acting in MotherF**ker with the Hat at the Actor's Studio. The manager was there to see a different person, but found an interest in Goya instead. "If a real career opportunity will happen, it will come out of a passion people see in you."
Goya = Yago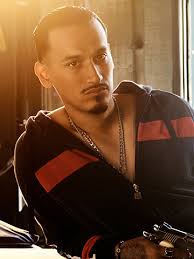 Even though Goya considers Yago to be his 'big break,' he did not go into the audition with a lot of anticipation. He didn't wait to get the role to prepare, instead he focused on doing his best, most dedicated work. "When I got the audition I started from that point. I started doing animal work. I wanted to do what I wanted to do with it." After he landed the role, his friend pointed something out to him. "Goya and Yago share the same letters… it's like the universe saying this was meant for you."
"The role [of Yago] has given me an opportunity to really create this character… creatively it has been a lot of fun."

Goya Robles, LSTFI Teacher
Every role Goya plays teaches him something about himself, and Yago has changed his life. Goya considers himself to be an introvert and Yago is extroverted and always speaks his mind. "His outward expression.. taught me I don't have to keep everything in." Yago is the nephew of a Nevada Queenpin and acts as a lieutenant in her organization. In the first season he makes a couple mistakes that creates a mess for his aunt and lands him a spot as an enemy of the main character, Miles. By the third season, though, "things really change up," says Goya, "he becomes closer to his enemy." Goya has enjoyed how in depth all the characters in the show have been written. "[Yago's] not just one thing," his actions and maturity changes throughout the show's seasons.
Since being in Get Shorty "I get a lot more coming my way," says Goya. His schedule keeps him very busy with auditions, season premiere parties, and teaching. This opportunity relieves some of the audition worries for him; "I don't have to convince people of the level of work I can do." For current students or aspiring actors, he still maintains that doing passionate work can really open up opportunities that you didn't know were there. Whether he was in a staged reading, a play, or a big name TV show, passion drives the work that Goya Robles is doing.
Check out Get Shorty Season 3- Sundays at 10pm EST on EPIX.
---
The Alumni Blog for LSTFI Los Angeles is run by Aly Homminga.
If you have an interesting story and you think you should be featured please contact Aly at [email protected].