Welcome to The Lee Strasberg Institute in Los Angeles Upcoming Events page! Events include: screenings, student performances, Q&A's, lectures, and upcoming plays. You can find theatre events near you from the Institute, our in-house theatre company, Sixty-Six Theater, and other live theatre performances. Many events are free and open to the public. Find more information below.
And if you're interested in renting a venue for your next reading, production or film screening, check out our Theatre Rentals page. The Lee Strasberg Theatre & Film Institute in Los Angeles boasts 2 larger theatre spaces–The Marilyn Monroe Theatre, a 99-seat theatre with a drop-down screen for film screenings and Stage Lee, a 49-seat black box theatre. The Institute also has a fully functional Soundstage. The Institute is conveniently located in West Hollywood on Santa Monica Blvd, just West of Fairfax Ave.
ALL IN-PERSON EVENTS ARE CURRENTLY POSTPONED DUE TO COVID-19.
We look forward to being back in our space as soon as safely possible.
Stay tuned for updated event dates.
Until then, all events are currently offered online via remote platforms. And check out our new Online Offerings
View 3.31.2020 Newsletter

April 2020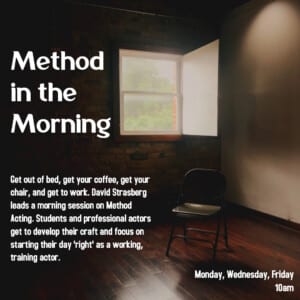 Get out of bed, get your coffee, get your chair, and get to work. David Strasberg leads a morning session on Method Acting. Actors get to develop their craft and focus on starting their day 'right' as a working, training actor.Social distancing doesn't mean that your acting training has to end. Join David Mondays, Wednesdays, and Fridays at 10AM for Method in the Morning now through Zoom. Email for the link Free and open to all Students (current, incoming, prospective),…
Find out more »
May 2020
June 2020
September 2020
+ Export Events