Audrey Miller
Adi Roy, originally from New Jersey, spent just one year training at The Lee Strasberg Theatre & Film Institute (LSTFI) through the BFA partnership with New York University's Tisch School of the Arts before embarking on his professional career. Since then, he has performed in Jagged Little Pill on Broadway and is currently starring in the North American Tour of Disney's Aladdin.
College to Broadway
During Adi's year at LSTFI, he learned the basics of Method Acting from Lola Cohen and Tim Crouse. Although most classes were held over Zoom due to the pandemic, Adi says The Method is his foundation for everything. The rigorous class schedule at LSTFI taught Adi "how to work and how to approach the work," in addition to a newfound assuredness in his technique: "The biggest thing that Strasberg helped me with was more confidence in myself, in my acting… I really enjoyed my time at LSTFI."
Almost immediately after classes ended in 2021, Adi made his Broadway debut as Phoenix in Alanis Morissette's hit musical, Jagged Little Pill. Adi says, "Going from being a college student to doing that every day, eight shows a week – I definitely learned so much," especially from the other cast members. Although it was a dramatic transition, Adi continued to live in the NYU dorms while performing on Broadway: "I was basically living the same life as everyone else. I was coming back to my three roommates every night and they were just like, 'How was the show?'"
For Adi, implementing his newfound Method techniques in Jagged Little Pill was essential. He says, "It was really great that I had The Method ingrained in me for a whole year… Coming from the Strasberg training, it was fun to try to apply it to what I was doing." Adi also worked with a Method Acting coach to "bridge the gap" between class exercises and utilizing The Method on a Broadway stage: "I was trying to keep everything grounded… but when you're in a theatre with 1,100 people… the people in the back of the theatre have to feel your show." Adi eventually mastered this "hard balance" and adds that The Method was especially helpful for staying "emotionally and mentally healthy". Because some of the themes of Jagged Little Pill were "tough on the mind", Adi was able to access the right headspace and perform eight times a week with the help of his LSTFI training.
"A Whole New World"
Due to the Omicron variant, Jagged Little Pill only ran for two months, which is why Adi has trouble thinking of the show as "a full experience". However, just a few months later, Adi was cast as Aladdin in the North American Tour of Disney's Aladdin.
For the past nine months, he has been exploring a different city every week, which is "one of the best parts about it – other than doing the show itself." While it has been enjoyable to discover new places, the experience is dramatically different from Jagged Little Pill. Adi says, "When you're in New York, you have your own separate life outside of the show so doing the show feels less like home, it more feels like work. On tour, you're going to different cities every week. The only people you're seeing that are the same are your castmates and crew, so they become your kind of home away from home." Adi admits that it took him a few months to settle into the tour, however, the traveling set, which overlays each theatre, makes it much easier to adjust to the different spaces.
Although touring can be difficult, "finding community" has been an incredible experience for Adi. He and his castmates have several "pre-show rituals", including an ab circuit: "I mean, when you're shirtless on stage for two hours, you feel obligated to."
Adi also frequently educates his castmates about The Method: "I talk about sensory a lot with my peers because a lot of people are coming from musical theatre training backgrounds, so to hear that I was studying Method Acting… a lot of people have questions." Adi also utilizes The Method to stay present in the show, "finding the motivation in each scene and dialogue".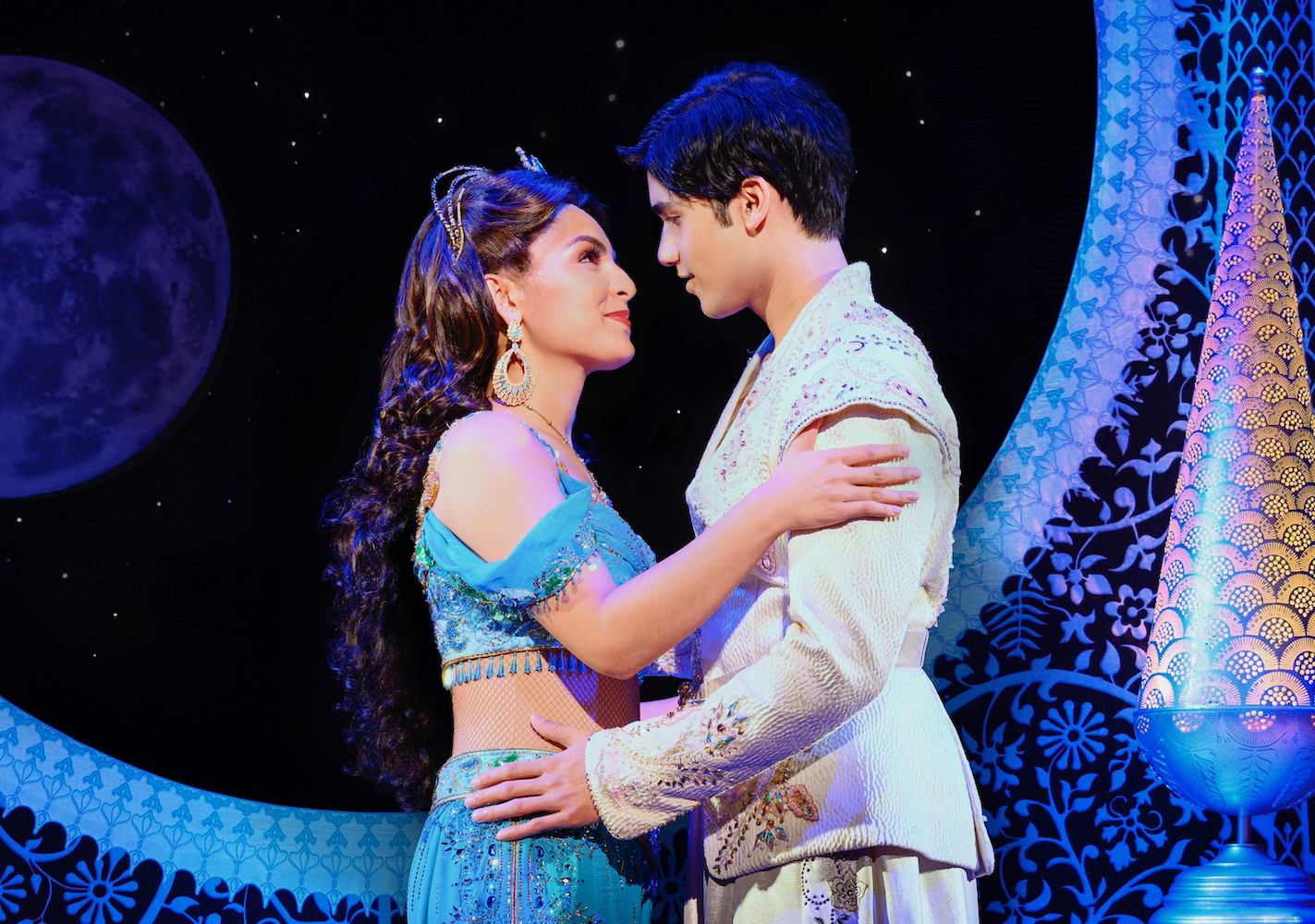 Aladdin Q&A: Lightning Round
Q: Aladdin's theme song?
A: "'Riot' by Childish Gambino. So much is going on at the same time, but it's an organized chaos."
Q: Is the magic carpet ride terrifying?
A: "I was pretty scared the first time but thankfully we have little seatbelts that you don't see. After you've done it so many times, you get used to the same travel route."
Q: Do you ever have the opportunity to improv in the show?
A: "When I forget my lines!"
"One Jump Ahead"
Adi's immediate plans include touring with Aladdin, although he would love to return to LSTFI eventually: "I think at some point I want to go back and take a few classes just to continue honing my skills. I think that's important for everyone to do". When reflecting on his success since training at LSTFI, Adi is proud of his growth "as an actor and as a person," and is excited for the future.
Visit this website to see Adi perform in a city near you and follow his journey on Instagram!