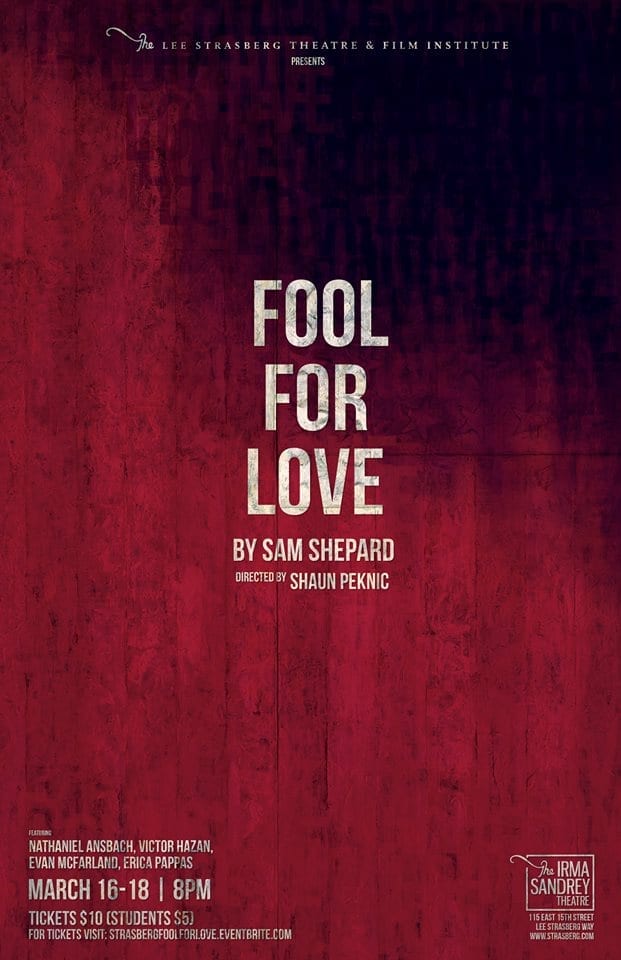 On March 17th an alumni-packed production of Fool for Love, directed by Shaun Peknic, will open and run through Saturday. For a play filled with highly complex relationships, beautiful language and passion, Shaun Peknic, an experienced and incredible theatre maker, has assembled quite the team.
For a little insight on the process of this production, I spoke to Erica Pappas, who plays May in this production. Erica Pappas is a recent graduate of the NYU Strasberg program. When asked about her experience working on the play she said: "Fool for Love is amazing because even after spending five hours a day rehearsing it, and many more hours outside of rehearsal thinking about it, still there's something new to be discovered in the play every time we look at it. It's full of surprises." She spoke about the strength of her fellow actors, explaining: "it's so easy to truthfully sit and listen to them even in a scene we've worked a thousand times before, because every time they're trying things out and fleshing ideas out fully, and that's so captivating and makes it so much more exciting for May to live in the situation she's in. She also talked about her work on the character: She said: "May is an insanely challenging role. She's sexy and smart and both guarded and wounded and vulnerable and open. Something we've discussed in rehearsal a lot is the idea that May is always feeling everything fully."
The show will be running for these three performances in New York City, but fortunately will be traveling to Warsaw for the first week of July for the ITSelf Theatre Festival! We wish this incredible team the best of luck!
---
About this Production:
FOOL FOR LOVE
By Sam Shepard
Directed by: Shaun Pcknic
Set in a desolate motel room on the edge of the Mojave Desert, Fool for Love displays an alternately tender and violent love-hate relationship. The "fools" in the play are battling lovers May and Eddie. Eddie tries to persuade May to come back to him and live in a trailer on a farm in Wyoming that Eddie has always wanted to buy and where he has always imagined living with May. Throughout the play the character of the Old Man—apparently the father of both lovers—sits to the side and talks to May and Eddie and offers commentary on each character and about himself. The play is a masterpiece of understatement and allusion, a twisted cowboy romance.
March 16-18, 8:00pm
The Irma Sandrey Theatre
Featuring:
Evan Makeever McFarland
Erica Pappas
Nathaniel Edward Ansbach
Victor Hazan
Creative Team:
Production Supervisor – Haydn Díaz
Production Manager, Light Designer & Sound Designer – Eric Mercado
Technical Director – Joel Soren
Stage Manager – Maxwell Waters
Set Designer – Chris Bowser
Costume Designer – Sarah Thea
Fight Choreographer – Mitchell McCoy