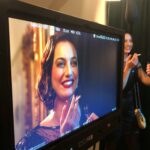 LSTFI Alumna Michelle Twarowska is know for many things. She had a reoccurring role on Jane the Virgin, was a guest star on Fresh Off The Boat, and competed in talent shows such as So, You Think You Can Dance and X-Factor.
With training from The Lee Strasberg Theatre & Film Institute, Groundlings Improv, and life experience as a professional dancer and model, it seems there is nothing Michelle Twarowska cannot do. Despite the pandemic, Michelle Twarowska has been hard at work booking roles, including in David Fincher's newest movie Mank, on Netflix now.
A Woman of Many Talents
From a young age, Michelle Twarowska trained as a dancer. Throughout her career, her dance training has helped her significantly, including earning her a place on So, You Think You Can Dance- Poland. "I grew up as a professional dancer… and I was burning out." Her mother encouraged her to expand her talents and try acting.
"I thought, I should learn [acting] from the best," she noted. After doing some research, she found an article about a fellow Polish actress studying at The Lee Strasberg Theatre & Film Institute, and she decided to apply. "I grew up as an artist… I was on stage, just not as an actress, so it was very helpful for me to have a structure and start at the very beginning." In the Fall of 2011, Michelle arrived in New York City to train at LSTFI. She soon moved to Los Angeles and continued her training at the LSTFI Institute in West Hollywood in the Two-Year Conservatory.
"Strasberg really helped me set the foundation of what acting is really about… [Training] helped me open up emotionally."

Michelle Twarowska on training at LSTFI
Recent Work
he coronavirus has done very little to slow Michelle's career. In January, you may recognize her in a new Snapchat series. Though she was not allowed to discuss the title of the show, Michelle is the lead and she mentioned really enjoying the project and working with Emmy Winning director Vincent Peone (Adam Ruins Everything, When Meryl Met Ana).
During production, Michelle's background in dance helped her succeed. For one episode, "we had a dance battle set up in a convenience store… They hired me as an actress and asked if I would be able to pick up choreography and I said, 'of course!'." Keep an eye out for a familiar face next time you are scrolling on your Snapchat stories page!
Additionally, Michelle worked alongside Gary Oldman and Amanda Seyfreid in David Fincher's newest film Mank. The movie premiered on Netflix on November 13th. The movie follows the life of screenwriter Herman Mankowitz (Oldman) as he writes his famous work Citizen Kane. Twarowska plays a young Joan Crawford. On working with David Fincher, Michelle said "he is very specific about what he wants… We would keep shooting [the scene] over and over… It was an incredible experience."
"Whenever you get a chance to act is an amazing opportunity… I have been very lucky to book projects that have been very creative."

Michelle Twarowska