BENT (Act II)
By Martin Sherman
Directed by C. Alexander
Presented in honor of Holocaust Remembrance Day.
January 27, 2022 | The Marilyn Monroe Theatre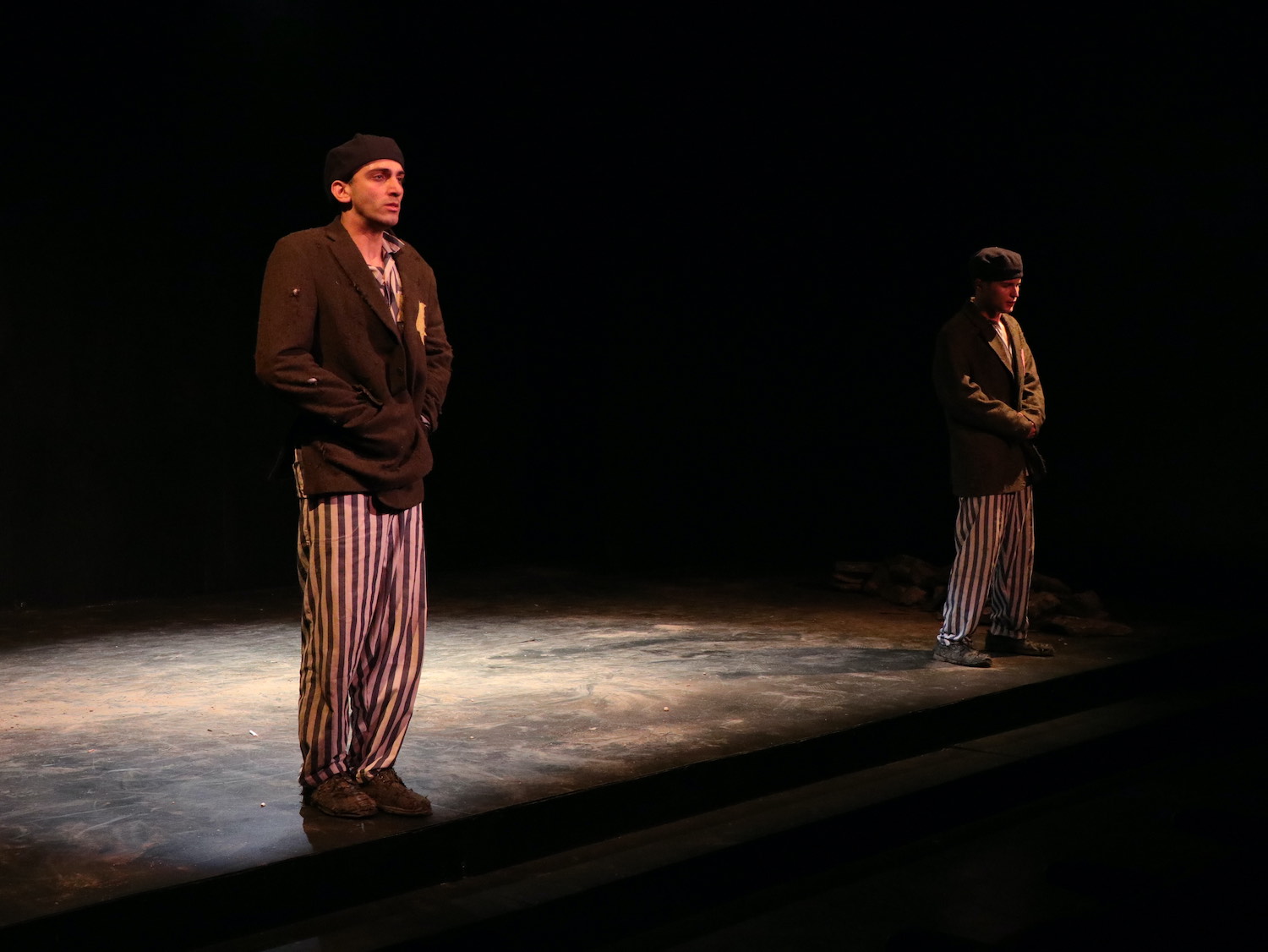 FEATURING
Amit Barnathan (Max)
Aeden Jayce (Horst)
Charlie Howard (German Soldier)
Noel Martin (German Solider)
DIRECTOR'S NOTE
In 1945, the world at last saw the end of the Holocaust, a genocide that will forever leave its mark on our world and those who suffered as a means for it. When Martin Sherman set out to compose a story from those among the queer community who were penalized during the Third Reich's persecution of homosexuals, he may not have realized what ground he would break. Rarely spoken of, the liquidation of homosexuals during the Holocaust – the pink triangles – amounted for more than 15,000 deaths in concentration camps alone. Another estimated 50,000 homosexual men were exposed, imprisoned, brutalized and summoned to death for their "heinous act of love", just in the time between 1933–1940. Our play is set from the Night of the Long Knives (Germany's liquidation of all homosexuals in central Berlin in 1934) to January 1935.
Sherman's BENT is a thematic whirlwind for our main character, Max, as he drifts between the world of glittery, fetishized Berlin (ACT I) and the one burning before him as he is forced into labor at Germany's Dachau Concentration Camp (ACT II). Bent dramatizes not only the way gay men were caught in this crossfire but also, in the compromised character of Max and the yellow star he wears to mask his greatest secret, the terrible means by which some fought to survive. Only in the play's second act does Max finally grasp the futility of mere survival, sans dignity and love. As we meet Max and Horst – another pink triangle – on their ill-fated journey, we are summoned to await their mortality and witness the love that stirs between them. Sherman's heavy leitmotifs of self-acceptance and death ask of his audience the same questions as it does his characters: How, knowing you will leave this world, do you embrace yourself with pride? How does one unburden themselves of their most painful yet promising truth?
Although one can see through the facade of this story and understand the likelihood of doom, one can also find the warm light of love. Love keeps the pulse going stronger, even in the darkest of moments. Love will warm you in the bitter cold of this world. As a member of the Jewish faith and queer community, I am honored to bring to the stage Sherman's story, as well as the many thousands that will never fully be known. May we reflect on the souls affected by these ghastly events and promote peace and better understanding with all those we meet. A huge thank you to The Lee Strasberg Theatre & Film Institute, Victoria Krane, our production team, these fine actors and all those who contributed to telling and being a part of this event.
With love,
C. Alexander