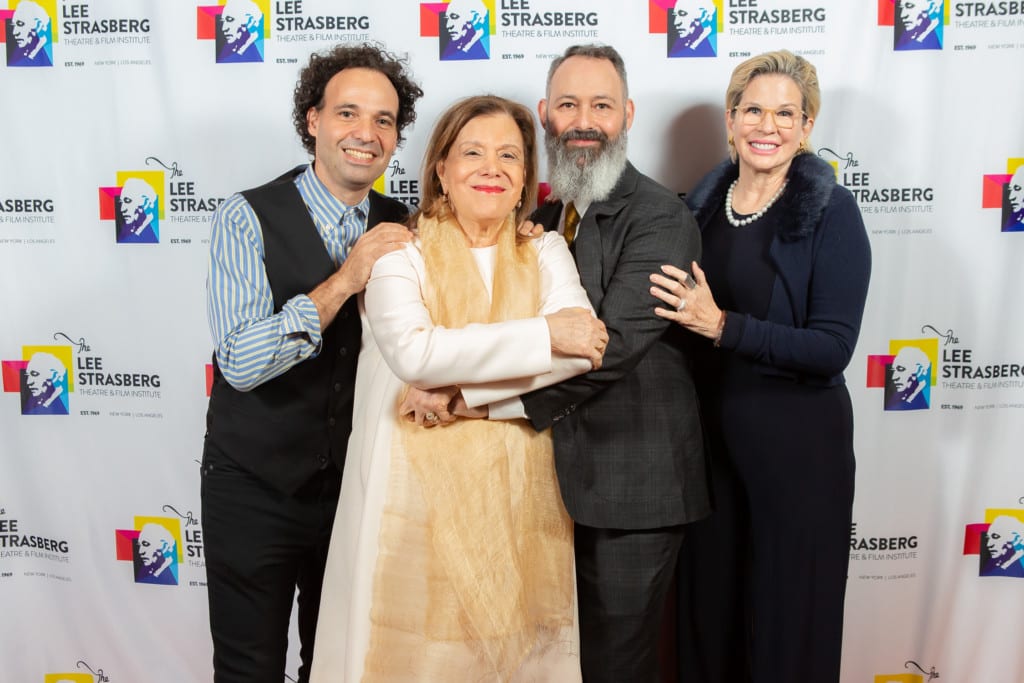 David Lee Strasberg, son of Lee Strasberg and Creative Director of LSTFI Los Angeles, stopped by LSTFI New York to give a special workshop for students and alumni. He remarks that there is no limit to what can be taught in this field, or to what can be explored in The Method.
"The work, in a way, is infinite. The work is as infinite as a human being and it's as infinite as all of the experiences of all of you, and everyone who's not in this room."

David Lee Strasberg
Acting as a Technical Process
David dives in to his father's take on acting. "My father believed in technical work," he explains, "We use technique to unleash creativity. We use structure, sequence, [and] logic to spark creativity, soul, [and] feeling." The technical work begins with script analysis and defining beats. Beats, David explains, can be used in a multitude of ways and it is the role of the director to define "beats" for themselves, for the actor, and for the audience during any given production or project. Moving forward into exploration of the script, David emphasizes asking simple questions: Where am I? Where am I coming from? What happened before this moment? Did I sleep well last night? Why or why not? What is my relationship to and history with my scene partner? What would I be doing if the scene never started? David encourages approaching a script with curiosity, and starting with these basics before looking to dive into dramatic acting choices.
Taking It Slow
As an actor, it is natural to seek the juiciest, most challenging exercises. David argues, however, that you must always start from the beginning. "Most people look for the more advanced exercises, but if you can't do daily activity? Don't bother. If you can manage daily activity, the later stuff won't work." He explains that, regardless of how sensitive you are and how easily you access emotion, daily activity must come first. In fact, he emphasizes that the more sensitive you are, the more important it is to have a solid foundation. "Daily activity is about building strength and concentration." While it may seem to be the most romantic or exciting of exercises, daily activity gives us that foundation, that strength and concentration required to move forward. Daily activity absorbs and is informed by the later work – the overalls, the personalizations, the affective memories. It is the base of the dish, on which we add the flavors.
Do Your Homework
One of the challenges of acting, and the study of acting, is it's subjectivity. Many students find feedback to be vague or difficult to take deliberate action on. An alumna of LSTFI once described a note she received from another studio: "It felt like the teacher just wanted me to 'feel it more'. I didn't know how to do that. Emotions aren't something you can control." Again emphasizing the benefits of a technical process, David shares tangible steps you can take towards improving your work. "Do your homework," he says and encourages practicing daily activity at home – first doing the sensory exercise then trying out the real thing, or vice versa. Try working on "brushing your teeth". After the sensory, brush your teeth in reality and ask yourself questions. How does this feel? How does it compare to the sensory? What did I miss? As you become more present in your day to day life, taking note your experiences and actively logging memories, your exercises with get stronger.
The Method Makes a Difference
David Strasberg explains how consistent work in The Method make a difference. When you first begin training, the experiences that arise in your acting are unconscious and uncontrolled. Method Acting helps to increase your self-awareness, and make your work as an actor more conscious. As you become more experienced and versed in The Method, the experience you have while acting at last becomes unconscious but still controlled. Reminding us that this process requires effort, David leaves us with a final piece of advice:
"An amateur waits for inspiration. A professional gets to work."

David Lee Strasberg